PayBack points. The sole reason I use MakeMyTrip.com is PayBack points. Otherwise I will never ever login to MakeMyTrip.com. They had worst UED. And then they revamped the site and messed up user data. At least my data is messed up. To start with, MakeMyTrip.com has a tie up with PayBack. This tie up allows a user to redeem their reward points right away from MakeMyTrip.com website. So while you are finalising your tickets you can enter your PayBack details in a pop up on MakeMyTrip.com website and it will fetch your points which on your further authorisation will provide you a coupon code for redemption. This integration was messed up. If some how the interface between MakeMyTrip.com and PayBack failed the user would see cryptic "error: Bad Request" message in popup. If I were to design such a system, I would set up an alert on very first instance of such incident and will log it and alert the website team and show user a friendly message. I spent 30 minutes trying to redeem my point thinking I might have entered the PayBack card info, 16 digits card number, wrongly. But no. Then I fired firebug and I could see PayBack sending an Apache Tomcat error page as response which MakeMyTrip.com website didn't understand.
I tweeted this to make my trip.
@makemytripcare y is booking a ticket wid ur portal a mental torture? Y cant u hire betr QA team? m tryn 2 redeem points for last 30 mins

— Kum4r Ch374n 5h4rm4 (@kumarldh) February 19, 2013
But that was not all. A typical New Delhi to Bangalore flight will take 2 hours and 10 minutes. But MakeMyTrip was showing my flight duration as 55 minutes! Who wouldn't like to save time?

At work, we deal with large data sets. Most of the data is input by users and we come across such discrepancies. But our data processing models are trained in such a way that they figure out these discrepancies and alert stakeholders, suppresses the bad data from going to production. On top of it, error and exception handling is part of the code. And if it some how is not implemented the QA team hammers the product and finds out these kind of bugs. Then on top of it we organise a bug bash where other teams try to break our product in any possible way. I thought MakeMyTrip.com had enough resources to at least tackle the PayBack issue. There should be a mechanism to at least handle these exceptions if not anything else. But no. Their QA team is always on vacation. Check this.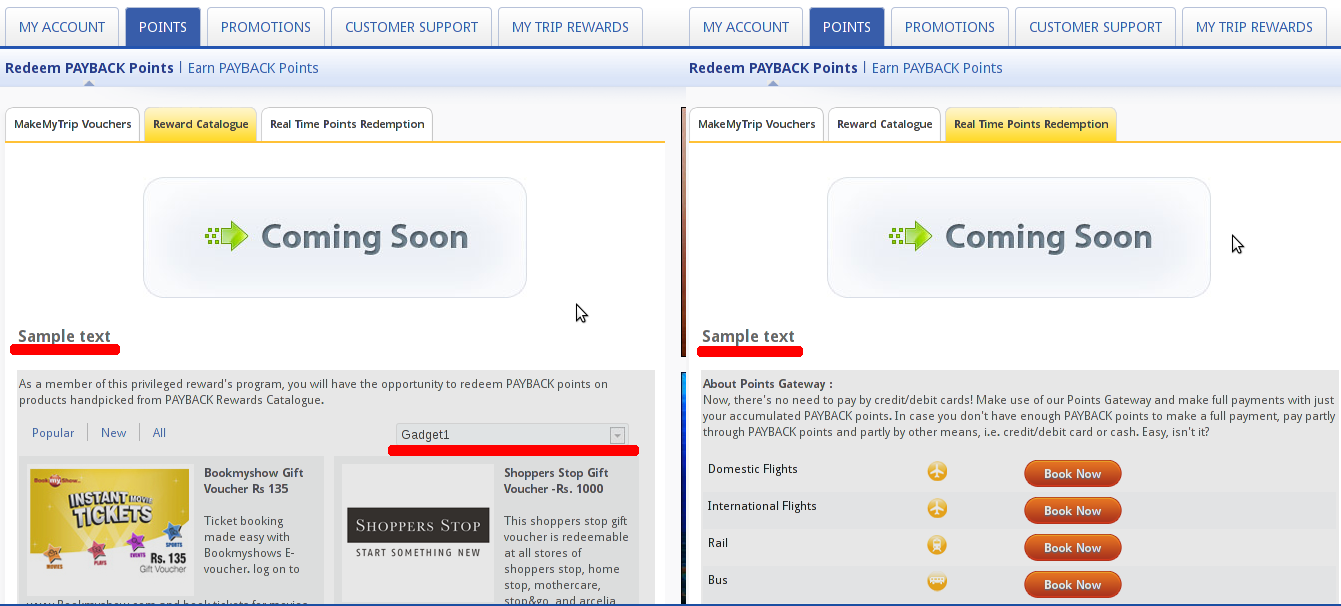 Then they revamped the site. And my daughter is listed as "Mr." and my date of birth is 6th Sept 1980. What??? I looked at my booking history. Turns out I booked my last flight on 6th Sept. Oh well that explains the day and month part but why my daughter is listed as a "Mr." and my year of birth is 1980??? This is definitely a result of porting data. Now I have given up hopes. I am not sure if I can trust them with my credit card information that I provide every time I book an air ticket with MakeMyTrip.com